Juliette Cunliffe is an International Championship Show Judge who has judged in Australia, Austria, Belgium, Eire, Estonia, Germany, Kazakhstan, Latvia, Luxembourg, Nepal, Netherlands, Russia, Slovenia, Sweden and the UK, where she has judged at Crufts.
Best known for her deep knowledge of Tibetan and other Asian breeds, Juliette also has a particular affinity with Sighthounds and the Molosser breeds.She has owned, exhibited and bred Lhasa Apsos, Whippets and Deerhounds, prior to which she owned and exhibited Afghan Hounds.
Clubs & Qualifications
Juliette is a Member of the English and Welsh Kennel Clubs, and a Patron and Vice-President of others. One of the English Kennel Club's Accredited Trainers, she is qualified to train and examine up-coming judges.
She also holds the Canine Studies Institute's Judging Diploma and Breeding Certificate, both with Credit.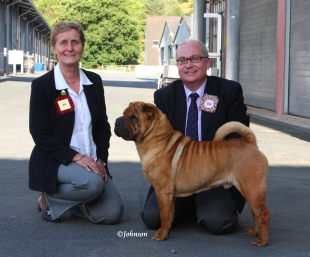 Photo Carol Ann Johnson
Above: Shar Pei DCC with BOB, Welsh Kennel Club Championship Show 2011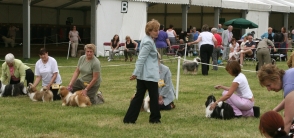 Photo Carol Ann Johnson
Juliette Cunliffe judging a Shih Tzu Puppy class Three Counties Champ. Show
Judging at the Deerhound Club Show 2008

Left: Assessing the quarters of the eventual winner of the Rotherwood Memorial Stakes.

Photos courtesy Jeff Poole
Juliette giving a lecture on the Tibetan Mastiff at a meeting of breed enthusiasts and the veterinary profession - Kathmandu, Nepal.

Photo courtesy: Dr Donald Messerschmidt
Above: (Left to right) Belgian Tibetan Breeds Club Championship Show 2009, Shih Tzu BIS, Lhasa Apso BIS 3, and Tibetan Terrier BIS 2 and Best Veteran in Show.
Above Left: Nedlik Emma Emily - winning her 3rd CC under Juliette Cunliffe (who had previously awared her Best Puppy in Breed)
Above Right: Juliette Cunliffe awards Ch Nedlik Anchousha of Valenna her first CC with BOB.
Photos Carol Ann Johnson
UK A lists:
Deerhounds, Lhasa Apsos, Shar Pei, Shih Tzu, Sloughis (A3), Tibetan Mastiffs, Tibetan Spaniels, Tibetan Terriers.
UK B lists/KC Judging Diploma with Credit/Distinction:
Akitas, Bulldogs, Canaan Dogs,Cavalier King Charles Spaniels, Chihuahuas (Long & Smooth), Chow Chows, Dalmatians, French Bulldogs, Ibizan Hounds, Japanese Shiba Inu, Japanese Spitz, Miniature Schnauzers, Neapolitan Mastiffs, Norwegian Elkhounds, Pharaoh Hounds, Pomeranians, Russian Black Terriers, Schipperke, Schnauzers, Whippets,
UK C List Level: All other breeds
Judges all breeds, Groups and Best in Show at Open Show level.
Overseas
Juliette judges many more breeds at Championship level, according to the status of the show in the country concerned. Abroad she has also judged Best in Show on several occasions.
The following photos have been taken by various kind people on some of my judging engagements. My thanks to them all.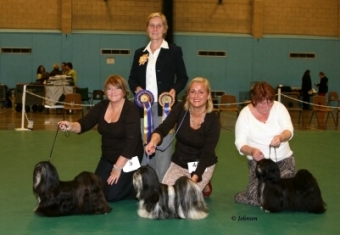 Photos Carol Ann Johnson
Above: Lhasa Apso Club of Wales & South West Ch Show 2010 (l to r) BCC & BIS, RBCC & RBIS, BPIS. Below: DCC, RDCC and BPD
Above: Best Puppy in Show (l) and Best Veteran in Show (r) Tibethund Ch Show, Sweden 2009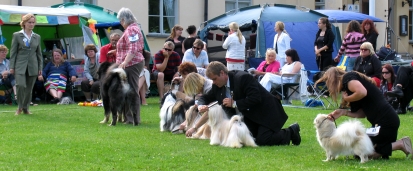 Above: Juliette selecting Best in Show at the Tibetan Breeds World Show, held in Sweden in 2008.

Left: Best in Show was the Tibetan Mastiff.